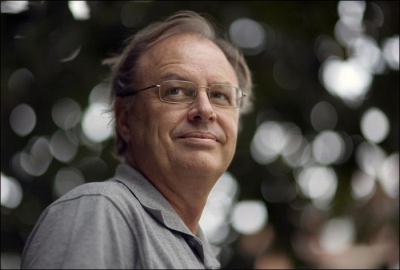 John Farrow
John Farrow is the "crime" pseudonym for novelist Trevor Ferguson. He is the author of eleven novels and four plays. His crime series with Sergeant-Detective Émile Cinq-Mars has been called the best of our time by Booklist in New York, and the best of all time by Die Zeit in Germany. The first novels were published in seventeen countries. A new trilogy of Cinq-Mars mysteries, The Storm Murders, debuts in May, 2015.
Born in Ontario in 1947, he was raised in Montreal and makes his home today in Hudson, Quebec. In his mid-teens, he gravitated towards Canada's northwest, working on railway gangs and writing at night in bunkhouses. He worked abroad before returning to Montreal to drive a taxi by night and to write by day, resulting in his first novel, High Water Chants (1977; reprint 1997). Onyx John (1985) received what is considered to be the highest critical acclaim in Canadian literature to that point in time. Later, the novel became a bestseller in France.
The River Burns (2014; tpb 2015) was his most recent literary novel, but it was his first crime novel that garnered international attention. City of Ice (1999; 2000; 2011) and Ice Lake (2001; 2002; 2011) enjoyed extraordinary success. River City (2011; 2012) continued the series, 450 years of Montreal history encapsulated as a crime novel, "a genre apart" according to Charles Foran in The Walrus.
Minotaur (USA) brings the next level in the series forward, beginning with The Storm Murders in May, 2015, to be followed by Seven Days Work and The Talisman Quarry. Of the former, Kathy Reichs writes that it is "complex, intense, and beautifully suspenseful — a tantalizing thriller set in a realistic Quebec. I'm delighted to see Émile Cinq-Mars back."
Last updated: 21 December 2016