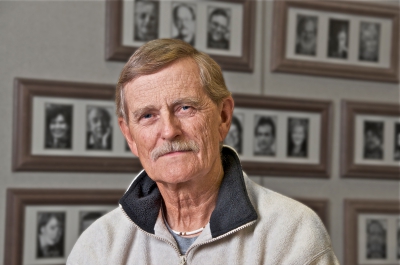 David A. Poulsen
David A. Poulsen has been a broadcaster, teacher, football coach, rodeo cowboy, stage and film actor and—most of all—writer. His writing career began in earnest when his story The Welcomin' won the 1984 Alberta Culture Short Story Competition. Now the author of more than 20 books, many for middle readers and young adults, David recently completed his Masters degree in Creative Writing at UBC. He divides his time between his small ranch in the Alberta foothills southwest of Calgary and a second home in Maricopa, Arizona.

In 2011 David's young adult novel Numbers was selected for the Sakura Medal (awarded by English speaking high school students in Japan to their favourite novel of the year). As a result David toured International Schools in Japan and Korea in the fall of 2011. His newest novel, Old Man, a YA/Adult crossover novel was launched in January 2013 to excellent reviews from CanLit, CCBC, Quill and Quire and the National Post, among others. David served as the Writer in Residence at the Saskatoon Public Library in 2012/13.
David's first mystery, (and the first in the Cullen and Cobb Mysteries series)--Serpents Rising will be released by Dundurn in the fall of 2014.
Last updated: 21 December 2016