THE CRATE: A Story of War, a Murder, and Justice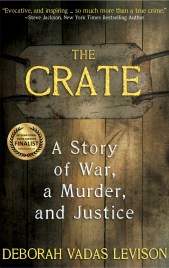 A killer hid a wooden crate under our Muskoka cottage. Its horrific contents forced us to confront evil, past and present.
Description
WildBlue Press
ISBN: 978-1-947-290-693
19 June 2018
Trade paperback $21.49
After surviving the Holocaust a young couple nestles in Canada, eager to forget the terrible past. Their memories are dredged up by a grisly discovery: they find a wooden crate, nailed tightly shut and almost hidden from view. Nothing could have prepared them for the horrific contents of the crate.