Lou Allin, 1945-2014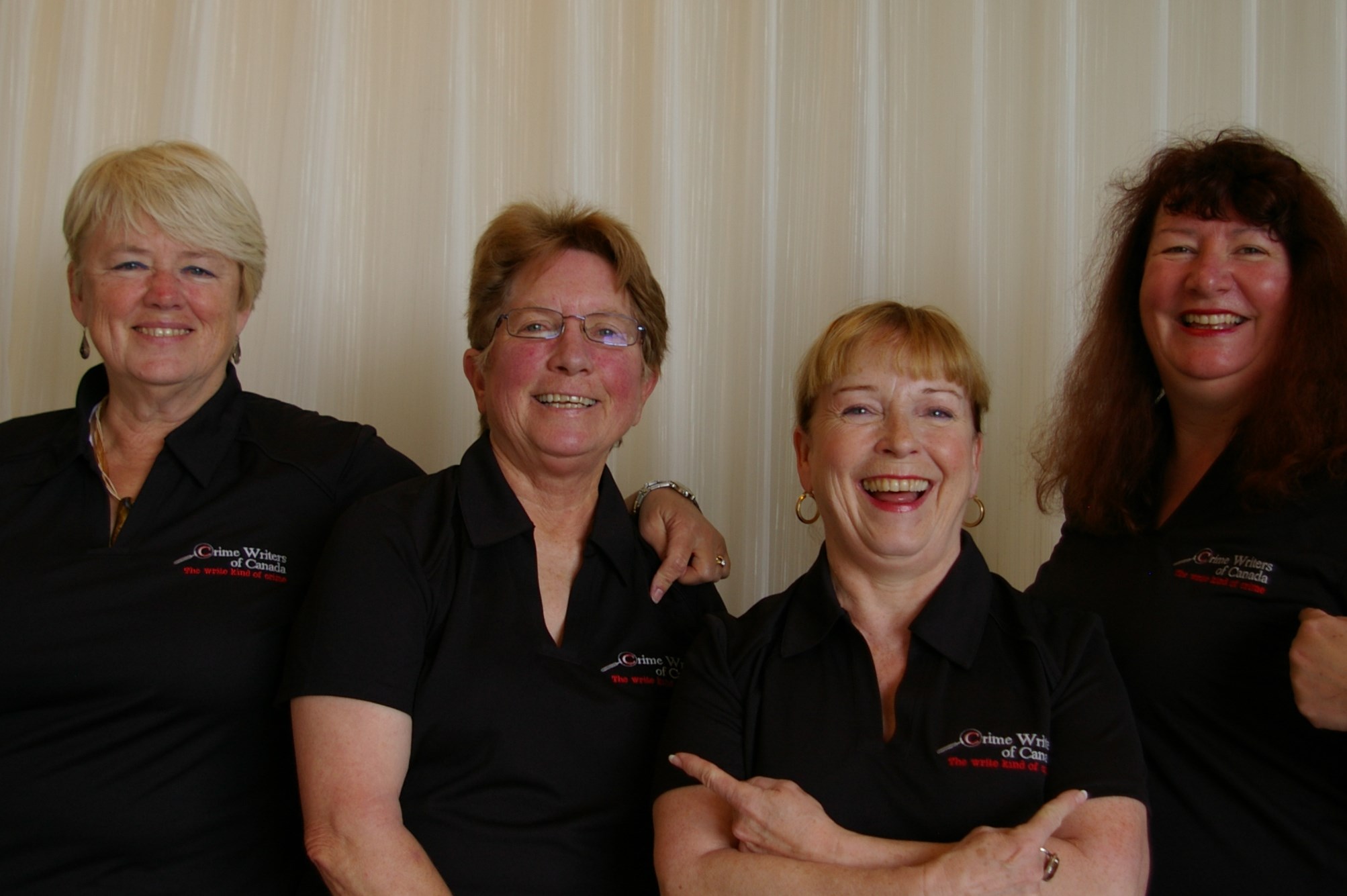 Lou Allin had never missed a Bloody Words, and pancreatic cancer wasn't about to stop her this year. More than the conference, however, it was presenting this year's Best Novella prize that she talked about when she returned. Nothing could have been more fitting than that she, first winner of the award for Best Novella, should have presented the 2014 award to her good friend, CWC executive director Melodie Campbell.
The trip took its toll, however, and on her return to Victoria Lou entered hospital, going home to Sooke only two weeks before she died on July 10.
I met Lou at Bloody Words in 2006, just before she left Ontario for Vancouver Island. She had wrapped up her Belle Palmer series, set in and around Sudbury, where she had taught at Cambrian College, and had begun a new series set in Canada's Caribbean, as she referred to the Island. Over the next year, our paths crossed at several times. As a result of organizing CWC events, I was asked to join the board of directors. When the BC Vice President resigned a few months later, I suggested Lou for the position. And so began a partnership that lasted almost until her death.
Lou shone in her role as CWC Membership Chair. She cheerfully shot off emails inviting new and established crime writers to join the organization. More often than not, she would report that her correspondents had been delighted to be asked to join. Her friendly personal touch ensured that CWC membership grew even in the face of increased dues and other challenges we faced. When she left the board, she was presented with the Derrick Murdoch Award in recognition of her outstanding service to CWC.
Lou's success in enrolling new members grew out of the energy, enthusiasm, and positive attitude she brought not only to the CWC board but also to organizing CWC events in Vancouver and Victoria and participating in CWC's mentorship program. As then Mentorship Chair Garry Ryan says, "Lou was a person who gave of herself and a good example of this is her support of up and coming writers as a mentor." She also supported many fellow writers by reviewing their books.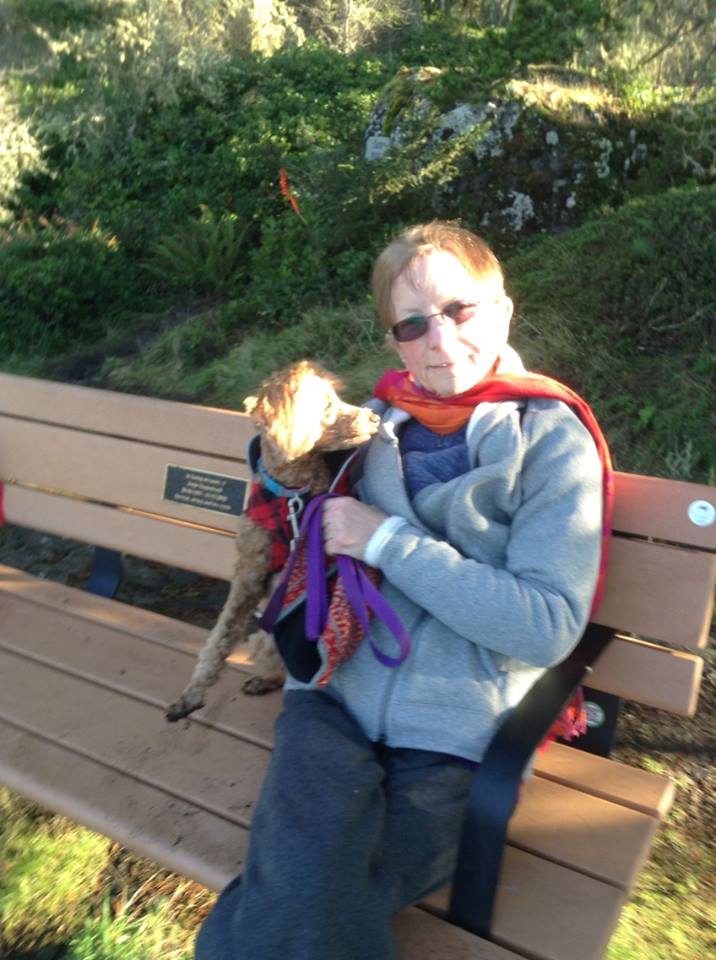 Lou and I became friends as well as colleagues when I moved to Victoria from up-island and we agreed to co-chair Bloody Words 2011. Our Gang of Five principal organizers included publicity chair Phyllis Smallman; webmaster Lee Smallman; and Lou's friend Antje Wagenbach, a crime fan with a background in banking who became our registrar and treasurer. By the time the conference was over, we had formed very strong bonds. Six months later, Antje was diagnosed with breast cancer. She died the following September. And then two months later Lou's pancreatic cancer was diagnosed. A massive operation the following April hardly seemed to phase her. Her energy never flagged, though she continued to lose weight. By November the cancer had returned. Still she continued to write and to review. In February she and I (and her blind poodle Friday) took a long walk to the bench Antje's husband erected to her memory in East Sooke Park. (See left.)
We won't have to walk farther than our bookcases to remember Lou. The Belle Palmer series, the Holly Martin series, the two novellas, a stand-alone mystery, a historical crime novel yet to be published, a forthcoming short story—they will be there for us to savour. And yet the work is incomplete. Lou envisaged five books in the Holly Martin series, held together by Holly's efforts to unravel the mystery of her mother's death. Only three books have been published. During one of my last visits to Lou in the hospital, I said, "I want to know what happened to Holly's mother."
"The clues are all there," she said.
And that's where she's left us, with the mystery of life and death.
Kay Stewart, former CWC President, 2014
Biography
A dual citizen of Canada and the US, Lou Allin is the author of the Belle Palmer series, published by RendezVous Press and set in Sudbury, Ontario, the Nickel Capital of the World. In 2005, in hardcover from Five Star Press came A Little Learning Is a Murderous Thing, an academic mystery at Copper University in the Michigan Upper Peninsula.
With a Ph.D. dissertation on Christopher Marlowe, the murdered English Renaissance spy, Lou came naturally to a love of crime stories. When she retired from teaching police Report Writing and Presentations to Criminal Justice students at Cambrian College in Northern Ontario, she moved to the more temperate Sooke, BC, overlooking the Strait of Juan de Fuca.
Awards:
Shortlisted, Arthur Ellis Award for Best Novel, 2003, for Blackflies Are Murder
Derrick Murdock Award 2011
Arthur Ellis Award for Best Novella, 2013, for Contingency Plan
Photos:
1. Lou and CWC crew at Bouchercon 2010: l-r Cathy Astolfo, Lou Allin, Mary Jane Maffini, Melodie Campbell
2 & 3 Lou and furry friends