Arthur Ellis Awards
Award Winners 1984-2005
1984-2005
1984
Best Novel: Eric Wright, The Night the Gods Smiled (Scribner's: New York, 1983)
---
1985
Best Novel: Howard Engel, Murder Sees the Light (St. Martin's: New York, 1984)
Best Nonfiction: Martin Friedland, The Trials of Israel Lipsky (Beaufort: New York, 1984)
---
1986
Best Novel: Eric Wright, Death in the Old Country (Scribner's: New York, 1985)
Best Nonfiction: Maggie Siggins, A Canadian Tragedy (McClelland & Stewart: Toronto, 1985)
---
1987
Best Novel: Edward O. Phillips, Buried on Sunday (McClelland & Stewart: Toronto, 1986)
Best First Novel: Medora Sale, Murder on the Run (PaperJacks: Toronto, 1986)
Best Nonfiction: Elliott Leyton, Hunting Humans (McClelland & Stewart: Toronto, 1986)
---
1988
Best Novel: Carol Shields, Swann: A Mystery (Viking: Toronto, 1987)
Best First Novel: Laurence Gough, The Goldfish Bowl (Gollancz: London, 1987)
Best Short Story: Eric Wright, "Looking For an Honest Man" in Cold Blood (Mosaic Press: Oakville, ON, 1987)
Best Nonfiction: Gary Ross, Stung: The Incredible Obsession of Brian Moloney (McClelland & Stewart:
Toronto, 1987)
---
1989
Best Novel: Chris Scott, Jack (Macmillan: Toronto, 1988)
Best First Novel: John Brady, A Stone of the Heart (Collins: Toronto, 1988)
Best Short Story: Jas. R. Petrin, "Killer in the House", in Alfred Hitchcock Mystery Magazine, 1988
Best Nonfiction: Mick Lowe, Conspiracy of Brothers (Macmillan of Canada: Toronto, 1988)
---
Best Novel: Laurence Gough, Hot Shots (Gollancz: London, 1989)
Best First Novel: John Lawrence Reynolds, The Man Who Murdered God (Viking: Toronto, 1989)
Best Short Story: Josef Skvorecky, "Humbug" in The End of Lieutenant Boruvka (Lester & Orpen Dennys: Toronto, 1989)
Best Nonfiction: Lisa Priest, Conspiracy of Silence (McClelland & Stewart: Toronto, 1989)
---
1991
Best Novel: L.R. Wright, A Chill Rain in January (Macmillan: Toronto, 1990)
Best First Novel: Carsten Stroud, Sniper's Moon (Viking Penguin: Toronto, 1990)
Best Short Story: Peter Robinson, "Innocence" in Cold Blood III (Mosaic Press: Oakville, ON, 1990)
Best Nonfiction: Susan Mayse, Ginger: The Life and Death of Albert Goodwin (Harbour: Madiera Park,
BC, 1990)
Best Criticism/Reference: Donald A. Redmond, Sherlock Holmes Among the Pirates: Copyright and Conan Doyle in America (Greenwood Press: Westport, CT, 1990)
---
1992
Best Novel: Peter Robinson, Past Reason Hated (Viking Penguin: Toronto, 1991)
Best First Novel: Paul Grescoe, Flesh Wound (Douglas & McIntyre: Vancouver, 1991)
Best Short Story: Eric Wright, "Two in the Bush" in Christmas Stalkings (Mysterious Press: New York, 1991)
Best Nonfiction: William Lowther, Arms and the Man: Dr Gerald Bull, Iraq and the Supergun (Doubleday Canada: Toronto, 1991)
Best Criticism/Reference: Wesley A. Wark, Spy Fiction: Spy Films and Real Intelligence (Frank Cass:
London, 1991)
---
1993
Best Novel: Carsten Stroud, Lizardskin (Bantam: New York, 1992)
Best First Novel: Sean Stewart, Passion Play (Beach Holme: Victoria, BC, 1992)
Best Short Story: Nancy Kilpatrick, "Mantrap" in Murder, Mayhem and the Macabre (Mississauga Arts Council: Mississauga, ON, 1992)
Best Nonfiction: Kirk Makin, Redrum the Innocent (Viking Penguin: Toronto, 1992)
---
1994
Best Novel: John Lawrence Reynolds, Gypsy Sins (HarperCollins: Toronto, 1993)
Best First Novel: Gavin Scott, Memory Trace (Cormorant: Dunvegan, ON, 1993)
Best Short Story: Robert J. Sawyer, "Just Like Old Times" in On Spec: The Canadian Magazine of Speculative Writing, Vo1. 5, No.2, 1993
Best Juvenile/YA: John Dowd, Abalone Summer (Raincoast: Vancouver, 1993)
Best Nonfiction: David R. Williams, With Malice Aforethought (Sono Nis: Victoria, BC, 1993)
Best Play: Timothy Findley, The Stillborn Lover (Blizzard: Winnipeg, 1993)
---
Best Novel: Gail Bowen, A Colder Kind Of Death (McClelland & Stewart: Toronto, 1994)
Best First Novel: Sparkle Hayter, What's A Girl Gotta Do? (Soho Press: New York, 1994)
Best Short Story: Rosemary Aubert, "The Midnight Boat To Palermo" in Cold Blood V (Mosaic Press, Oakville,
ON, 1994)
Best Juvenile/YA: James Heneghan, Torn Away (Viking: Toronto, 1994)
Best Nonfiction: Michael Harris, The Prodigal Husband (McClelland & Stewart: Toronto, 1994)
---
1996
Best Novel: L R. Wright, Mother Love (Doubleday: Toronto, 1995)
Best First Novel: (Tie) John Spencer Hill, The Last Castrato (Constable: London, 1995)
D.H. Toole, Moonlit Days and Nights (Cormorant: Dunvegan, ON, 1995)
Best Short Story: Mary Jane Maffini, "Cotton Armour" in The Ladies' Killing Circle (General Store: Burnstown, ON, 1995)
Best Juvenile/YA: Norah McClintock, Mistaken Identity (Scholastic: Richmond Hill, ON, 1995)
Best Nonfiction: Lois Simmie, The Secret Lives of Sgt. John Wilson (Greystone Books: Vancouver, 1995)
---
1997
Best Novel: Peter Robinson, Innocent Graves (Viking: Toronto, 1996)
Best First Novel: C. C Benison, Death At Buckingham Palace (Bantam: New York, 1996)
Best Short Story: Richard K. Bercuson, "Dead Run" in Storyteller, Winter Issue, 1996
Best Juvenile/YA: Linda Bailey, How Can A Frozen Detective Stay Hot On The Trail? (Kids Can Press:
Toronto, 1996)
Best Nonfiction: Jean Monet, The Cassock And the Crown (McGill/Queen's University Press:
Montreal/Kingston, 1996)
---
1998
Best Novel: William Deverell, Trial of Passion (McClelland & Stewart: Toronto, 1997)
Best First Novel: Kathy Reichs, Déja Dead (Scribner's: New York, 1997)
Best Short Story: Sue Pike, "Widow's Weeds" in Cottage Country Killers (General Store Publishing House: Ottawa, 1997)
Best Juvenile/YA: Norah McClintock, The Body in the Basement (Scholastic: Toronto, 1997)
Best Nonfiction: Patricia Pearson, When She was Bad (Random House: Toronto, 1997)
---
1999
Best Novel: Nora Kelly, Old Wounds (HarperCollins: Toronto, 1998)
Best First Novel: Liz Brady, Sudden Blow (Second Story Press: Toronto, 1998)
Best Short Story: Scott Mackay, "Last Inning" in Ellery Queen's Mystery Magazine, 1998
Best Juvenile/YA: Norah McClintock, Sins of the Father (Scholastic: Toronto, 1998)
Best Nonfiction: Derek Finkle, No Claim to Mercy (Penguin: Toronto, 1998)
---
Best Novel: Rosemary Aubert, The Feast of Stephen (BridgeWorks Publishing: Toronto, 1999)
Best First Novel: Andrew Pyper, Lost Girls (HarperCollinsCanada: Toronto, 1999)
Best Short Story: Matt Hughes, "One More Kill" in Blue Murder Magazine, 1999
Best French: Lionel Noël, Louna (Éditions de Beaumont: Montréal, QC 1999)
Best Juvenile/YA: Linda Bailey, How Can a Brilliant Detective Shine in the Dark? (Kids Can Press:
Toronto, 1999)
Best Nonfiction: Gordon Sinclair, Jr., Cowboys and Indians (McClelland & Stewart: Toronto, 1999)
---
2001
Best Novel: Peter Robinson, Cold Is the Grave (Penguin Canada: Toronto, 2000)
Best First Novel: Mark Zuehlke, Hands Like Clouds (Dundurn Group: Toronto, 2000)
Best Short Story: Peter Robinson, "Murder in Utopia" in Crime through Time III (Berkley Prime Crime:
New York, 2000)
Best French: Norbert Spehner, Le roman policier en Amérique française (Éditions Alire: Québec, 2000)
Best Juvenile/YA: Tim Wynne-Jones, The Boy in the Burning House (Groundwood Books: Toronto, 2000)
Best Nonfiction: A.B. McKillop, The Spinster and the Prophet (Macfarlane Walter & Ross: Toronto, 2000)
---
2002
Best Novel: Michelle Spring, In the Midnight Hour (Ballantine: New York, 2001)
Best First Novel: Jon Redfern, The Boy Must Die (ECW Press: Toronto, 2001)
Best Short Story: Mary Jane Maffini, "Sign of the Times" in Fit to Die (RendezVous Press: Toronto, 2001)
Best French: Anne-Michèle Lévesque, Fleur Invitait au Troisième (Vents d'Ouest: Gatineau, QC 2001)
Best Juvenile/YA: Norah McClintock, Scared to Death (Scholastic Canada: Toronto, 2001)
Best Nonfiction: (Tie) Stevie Cameron & Harvey Cashore, The Last Amigo (Macfarlane Walter & Ross: Toronto, 2001) and Andrew Nikiforuk, Saboteurs (Macfarlane Walter & Ross: Toronto, 2001)
---
2003
Best Novel: Rick Mofina, Blood of Others (Kensington Publishing: New York, 2002)
Best First Novel: James W. Nichol, Midnight Cab (Knopf Canada: Toronto, 2002)
Best Short Story: James Powell, "Bottom Walker" in Ellery Queen's Mystery Magazine, May 2002
Best French: Jacques Côté, Le Rouge idéal(Éditions Alire: Québec, 2002)
Best Juvenile/YA: Norah McClintock, Break and Enter (Scholastic Canada: Toronto, 2002)
Best Nonfiction: Andrew Mitrovica, Covert Entry (Random House Canada: Toronto, 2002)
---
2004
Best Novel: Giles Blunt, The Delicate Storm (Berkley, 2004)
Best First Novel: Jan Rehner, Just Murder (Sumach Press, 2003)
Best Nonfiction: Julian Sher and William Marsden, The Road to Hell (Knopf Canada, 2003)
Best Short Story: Gregory Ward, "Dead Wood", in Hard Boiled Love (Insomniac Press, 2003)
Best Juvenile: Graham McNamee, Acceleration (Random House, 2003)
Best French: Jean Lemieux, On finit toujours par payer (La Courte Echelle, 2003)
---

2005
Best Novel: Barbara Fradkin, Fifth Son (Napoleon and Co, 2004)
Best First Novel: Jon Evans, Dark Places (HarperPB, 2004)
Best Nonfiction: Matthew Hart, The Irish Game (Walker Books, 2004)
Best Short Story: Leslie Watts, "Crocodile Tears", in Revenge: A Noir Anthology (Insomniac Press, 2004)
Best Juvenile: Carrie Mac, The Beckoners (Orca Book Publishers, 2004)
Best French: Ann Lamontagne, Les douze pierres (Vents d'Ouest, 2004)
Past Award Winners
Award Archives
Past Winners by Year
2021 Winners, Shortlists, Entrants
2020 Winners, Shortlists, Entrants
2019 Winners, Shortlists, Entrants
2018 Winners, Shortlists, Entrants
2017 Winners, Shortlists, Entrants
2016 Winners, Shortlists, Entrants
2015 Winners, Shortlists, Entrants
2014 Winners, Shortlists, Entrants
2013 Winners, Shortlists, Entrants
2012 Winners, Shortlists, Entrants
2011 Winners, Shortlists, Entrants
2010 Winners, Shortlists, Entrants
Judging Process
Judging Process
Crime Writers of Canada recruits twenty-seven volunteers from among the large body of award-winning writers, reviewers, booksellers, librarians, academics, and avid crime fiction fans across Canada. The judges are not required to be CWC members, and many are not. The judges, therefore, represent a broad and knowledgeable cross-section of the reading public. Three judges read and evaluate the entries in each of the seven prize categories. Finalists in all categories are announced in mid-April, and winners are announced at the annual Awards Gala in late May.
Submissions open 1 September
Deadline for the unpublished category is 15 October. Submissions are checked, then emailed or posted to DropBox for judges about a week later.
Deadline for published categories is postmarked or courier-dated 15 December. Depending on the number of books in the category, the judges may receive their books in batches, starting in November, or all at once in the first week of January.
The longlist of ten unpublished submissions must be submitted by 15 January but can be delivered earlier. As soon as the longlist is finalized, the author has a week to send in their full manuscripts. They are posted for the judges to pick up as they are available.
Five finalists for each category must be selected by 1 April. (Smaller categories may receive special instructions.)
The winner for each category must be selected by 1 May.
It's never too late to volunteer. If the contest is underway or your preferred category is filled, there's always next year.

If you would like to volunteer as a judge, please contact:

Judging Guidelines - Published Categories
History
The Crime Writers of Canada –
How it all began
By Tony Aspler, founding President
In the summer of 1982 seven men with criminal intent met in Dooley's bar, a suitably insalubrious downtown Toronto watering hole for what we had in mind. The co-conspirators were the late Derrick Murdoch, mystery reviewer for The Toronto Star, British novelist Tim Heald, book reviewer, the late Doug Marshall, editor John Pearce, authors Howard Engel, Larry Morse and myself. The noise in the establishment was such that we were driven out to the more lofty and salubrious surroundings of the rooftop bar in the Park Plaza.
The purpose of the meeting was to form an association of crime writers modeled on the Crime Writers of Great Britain. Although my genre at the time was political thrillers (I co-wrote three with Gordon Pape – 'Chain Reaction', 'The Scorpion Sanction' and 'The Music Wars') I was voted by default, to be the first President of the fledgling Crime Writers of Canada.
The Arthur Ellis Awards
For the first year we met monthly in a room at the Toronto Reference Library, a fitting venue since it houses one of the world's foremost collections of library materials devoted to the life and works of Arthur Conan Doyle. At those early meetings we would invite an expert in different aspects of crime – cops, forensic scientists, criminal lawyers, etc. Eddie Greenspan was one of our guests whom we subsequently co-opted into presenting the Arthur Ellis Awards. These awards were named after the nom de travail of Canada's hangmen. The wooden statuettes (a condemned man on a gibbet whose arms and legs flail when you pull a string – considered by some to be in execrable taste) were designed under the supervision of Tim Wynn-Jones, who subsequently retreated from the crime fold to write children's books. (See note below)
The first recipient of the Arthur Ellis Award, in those days a single prize for the best novel published the previous year, was won by Eric Wright for 'The Night The Gods Smiled,' beating out works by William Deverell and Ted Wood. Next year it was Howard Engel for his second Benny Cooperman novel, 'The Ransom Game.' Both Eric and Howard would in turn ascend the throne of the Presidency of the Crime Writers of Canada. We used to publish a quarterly newsletter called 'Fingerprints' and the first item was the President's letter, titled 'Speech from the Throne.'
For my part, I returned to pure crime fiction with 'Titanic' and a series of Ezra Brant wine murder mysteries, 'Blood Is Thicker Than Beaujolais', 'The Beast of Barbaresco' and 'Death on the Douro.'


A note on Arthur by Tim Wynn-Jones
I'm happy to clarify Arthur's history. It was my job to head the committee, as Tony said. And my big contribution, as far as I'm concerned, was in realizing that a book prize is kind of a stage prop. The darn thing should look good in somebody's hands as well as on their mantel. So I thought to go to a stage designer, Peter Blais, who happened also to be a wonderful actor, and who happened to be someone I had acted with and knew to have a wicked sense of humour. He got it! He understood what I was trying to say and came up with the jumping jack. So Peter very much deserves the kudos for Arthur and I'm just pleased to have got him on board. It's the best prize around, as far as I'm concerned. I'm lucky enough to have won one and also to have won an Edgar and Arthur beats Edgar all to heck!

The Award for Best Unpublished First Crime Novel
Initiated by Louise Penny, the first Award for Best Unpublished was awarded by the Crime Writers of Canada in 2007 as part of the CWC mandate to recognize and promote the careers of promising new crime writers. The first winner was Phyllis Smallman for Margarita Nights, a book that was later shortlisted for Best First Novel. The competition is open to (1) Canadian citizens, no matter where they are living, and to writers, regardless of nationality, who have Permanent Resident status in Canada, and (2) who have never had a novel of any kind published commercially.
The Lou Allin Memorial Award

Sponsored by the 2011 Bloody Words Conference Committee, this award will be given in honour of Lou Allin from 2015 to 2019. Lou was a board member of CWC, a co-chair of the 2011 Bloody Words Conference, an award-winning writer, and a mentor to many. This award was particularly fitting, as she was the winner of the first Arthur Ellis Novella Award. We miss you dearly, Lou. Although the Lou Allin Memorial Award is over, Myystery Weekly Magazine has taken over the sponsorship of the novella category.

The Angela Henderson Memorial Award
Lucky authors have at least one supporter who encourages them to keep going through the inevitable setbacks and disappointments that new authors face. Best selling author Maureen Jennings, creator of the Murdoch Mysteries, had Angela Henderson. In memory of her friend, she has sponsored the Best First Novel with a $500 prize.
The Howard Engel Award for Best Crime Novel Set in Canada
Howard Engel was one of the founders of Crime Writers of Canada, a prolific author, former CBC producer, and the inaugural recipient of the CWC Grand Master Award. His books were among the first mysteries to be set in Canada, back in a time when English language crime fiction was only set in the Britain of the United States.
The Retirement of the Hanged Man
Story coming soon.
About the CWC Awards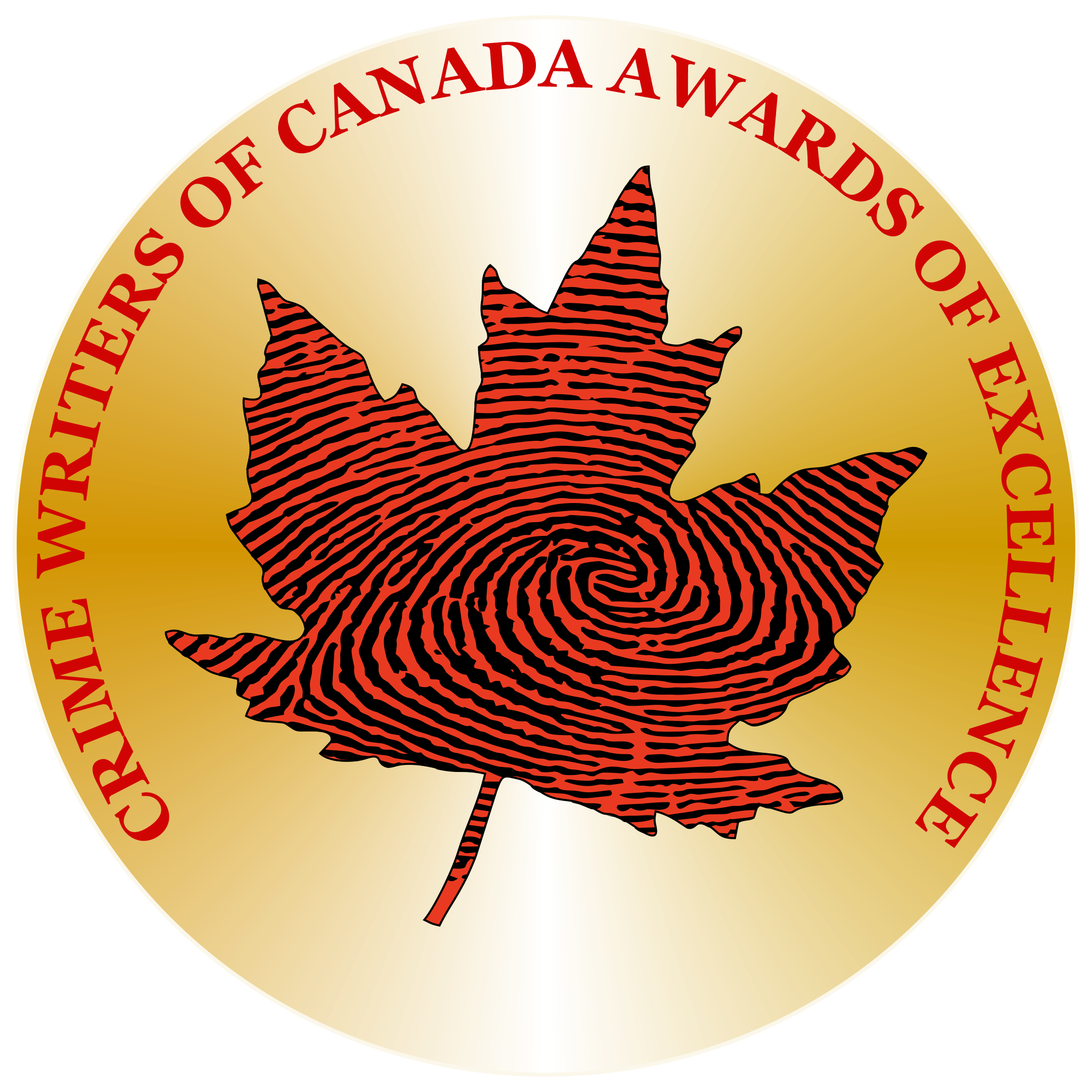 The Crime Writers of Canada
Awards of Excellence
Click here for the 2022 Finalists
About the Awards
The Awards are for CRIME WRITING and are not restricted to mystery writing. Crime-writing encompasses far more than the traditional whodunit. The crime genre includes crime, detective, espionage, mystery, suspense, and thriller writing, as well as fictional or factual accounts of criminal doings and crime-themed literary works. If you are not certain that your submission qualifies as a crime book or story, please contact us at
Awards are presented annually in the following categories (pending sufficient numbers.)
For published works:
Best Crime Novel sponsored by Rakuten Kobo, with a $1000 prize (Min. 50,000 words)
Best Crime First Novel sponsored by Writers First with a $500 prize(Min. 50,000 words AND author's 1st novel in any genre.)
The Whodunit Award for Best Traditional Mystery sponsored by Jane Doe, with a $500 prize (Min. 50,000 words)
The Howard Engel Award for Best Crime Novel Set in Canada with a $500 prize. (Min. 35,000 words)
Best Crime Novella sponsored by Mystery Magazine with a $200 prize (8,001 - 49,999 words)
Best Crime Short Story sponsored by Mystery Magazine with a $300 prize (Max. 8,000 words)
Best French Crime Book (Fiction and Nonfiction)
Best Juvenile or YA Crime Book (Fiction and Nonfiction) sponsored by Shaftesbury with a $500 prize
The Brass Knuckles Award for Best Nonfiction Crime Book sponsored by Simpson & Wellenreiter LLP (Hamilton) with a $300 prize
For unpublished novels:
The Award for Best Unpublished Manuscript with a $500 prize sponsored by ECW Press
The Awards are open to permanent residents of Canada, or by Canadian citizens living abroad.
Deadlines
The Submission Rules for the Published Categories and Unpublished Category are posted on the first of September.
Unpublished submissions must be received via email by 15 October.
Published submissions must be postmarked or courier dated by 15 December.
Shortlists Announcement

The CWC Awards of Excellence Shortlists presentation takes place mid-April. Details will be posted and updated on the Home Page in March and the list will be posted on the website after the announcement on the current Shortlist page.
Presentation of Winners

Because of the pandemic, we've had to forego our Awards Gala at the Arts and Letters Club in Toronto for a Red Carpet presentation on YouTube. Produced by Stone Court Studios, and performed by voice actor Frank Kearney, we promise something more than a dry reading of a list of names.
Event details will be posted and updated on the Home Page at the end of April and the winners will be posted on the current Winners page after the announcement.
Contact Information
Crime Writers of Canada Awards
716 Thicket Way
Ottawa, ON
K4A 3B5
Canada
We would like the thank our sponsors for their support, as well as the publishers and authors without whom there would be no Crime Writers of Canada Awards of Excellence.