Derrick Murdoch Award
Past Recipients of the Derrick Murdoch Award
The Derrick Murdoch Award
Past Recipients

2019 Vicki Delany (author, Past Chair, co-creator of Women Killing It conference)
2017 Christina Jennings (CEO Shaftsbury Films)
2015 Sylvia McConnell (creator of Rendezvous Crime imprint)
2013 Lyn Hamilton (Author)
2012 Catherine Astolfo (author and Past President) and Don Graves (reviewer, Hamilton Spectator)
2011 Lou Allin (author, CWC director and Membership Chair) and N.A.T. Grant (author, CWC director, Web Maevin)
2010 Peter Robinson (author of the Inspector Banks series; CWC past president)
2009 Gail Bowen (author of the Joanne Kilbourne series; active in CWC)
2008 Edward D. Hoch (author of over 900 crime short stories; CWC supporter)
2006 Mary Jane Maffini (author of three mystery series; CWC past president)
2005 Max Haines ("Crime Flashbacks" columnist for the Toronto Star)
2004 Cheryl Freedman (CWC Executive Director 1999 — 2009)
2003 Margaret Cannon (crime fiction reviewer for The Globe and Mail)
2002 James Dubro (nonfiction crime writer and film producer; CWC past president) and Caro Soles (founder of the Bloody Words mystery conference)
2001 L. R. Wright (author of two series set on the West Coast; CWC past president)
2000 Eddie Barber, Rick Blechta, David Skene-Melvin (secretary-treasurers of CWC) and John North (crime fiction reviewer for the Toronto Star; ed. Best of Cold Blood, Dishes to Die For)
1999Ted Wood (pioneer crime novelist and short story writer; CWC past president)
1998 Howard Engel (author of the Benny Cooperman series; CWC founding member and past president) and Eric Wright (author of Charlie Salter series, 4 Best Novel awards)
1995 Jim and Margaret McBride (West Coast promoters of CWC, ed. In Cold Blood)
1992 William Bankier, James Powell, Peter Sellers (writers and promoters of Canadian crime short stories)
1990 Eric Wilson (pioneer Canadian mystery series for children)
1988 J. D. Singh (co-owner of Sleuth of Baker Street) and Jim Reicker (founder of Prime Crime Books)
1987 CBC Drama Department (adaptations of Canadian crime books as radio plays)
1986 Margaret Millar (Canadian-born author of some 20 crime novels)
1985 Tony Aspler (author of political thrillers; CWC founding member, first president)
1984 Derrick Murdoch (crime literature reviewer for The Globe and Mail; CWC founding member)
Current Derrick Murdoch Award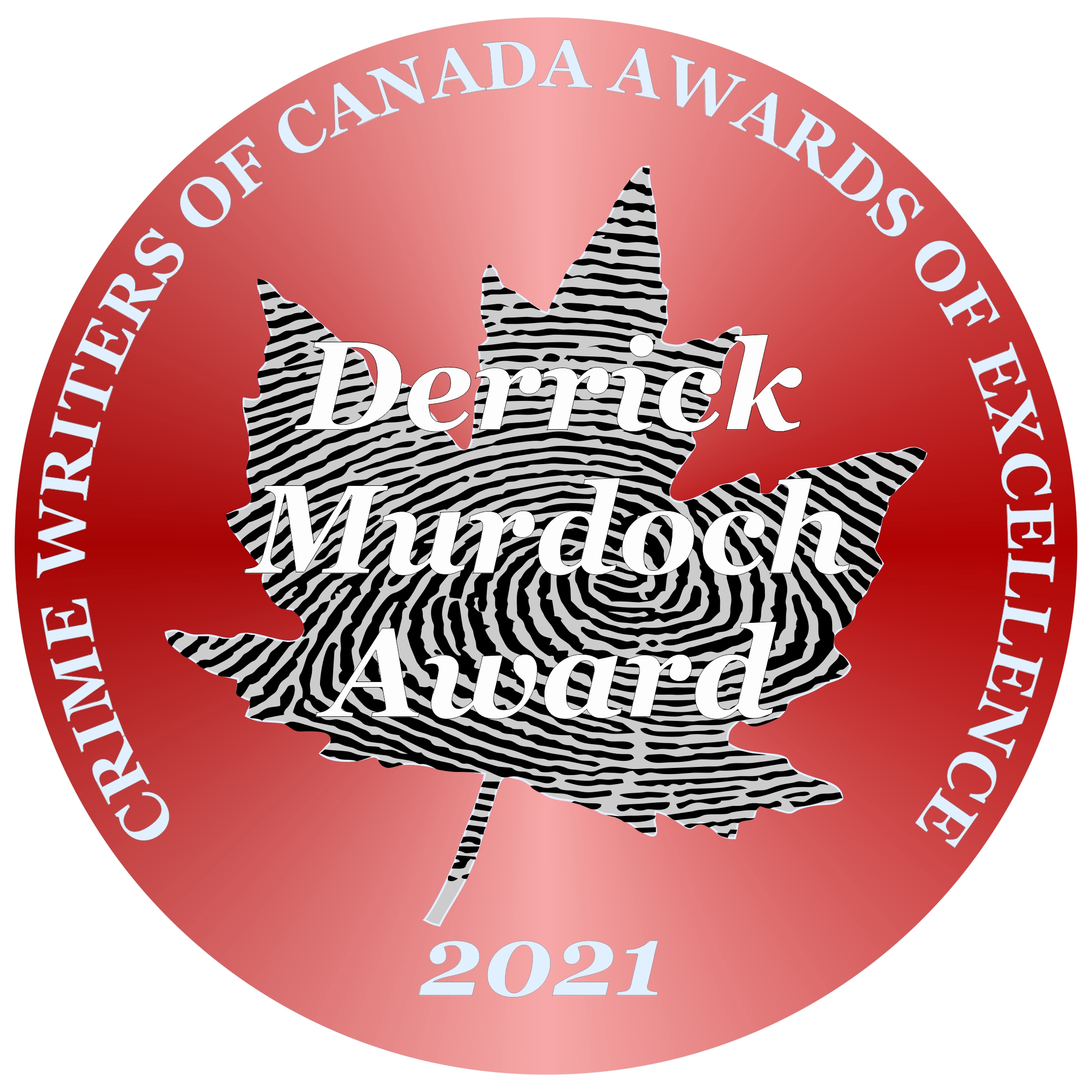 DERRICK MURDOCH AWARD 2021
The Derrick Murdoch Award is a special achievement award for contributions to the crime genre. It is awarded at the discretion of the Board Chair of Crime Writers of Canada. Known as the President's Award when first presented in 1984, it was later renamed in honour of its first recipient, Derrick Murdoch.
2011 Derrick Murdoch Allin-Grant

Just listen to some of the delicious words that Lou Allin has created. "The tiered vistas defined themselves, confessing antediluvian secrets under his patient tutelage." (From Man Corn Murders) and "A roseate kaleidoscope of light streamed through the stained glass windows of the small church, flashing jewels from a Jacob's ladder scene across Maddie's hands." (From A Little Learning is a Murderous Thing.)

As you can see, she's an accomplished writer, but she's also a poet, a dog lover, and she has even lived in Sudbury Ontario and survived to tell the stories. The Belle Palmer series, published by RendezVous Press was set there.

A Little Learning Is a Murderous Thing is an academic mystery at Copper University in the Michigan Upper Peninsula. Man Corn Murders takes place in the Escalante-Grand Staircase National Monument, the last mapped area in the U.S.

With a Ph.D. dissertation on Christopher Marlowe, the murdered English Renaissance spy, Lou came naturally to a love of crime stories. When she retired from teaching police students Report Writing and Presentations to Criminal Justice at Cambrian College in Northern Ontario, she left behind a plow truck, two snowblowers, two scoops, and five shovels, and headed for Sooke, BC. Her next series was based in the Vancouver Island environs, with an RCMP corporal, Holly Martin, as her heroine.

In 2008, Lou took over from a Crime Writers of Canada Director who had to resign and remained on the Board through thick and thin. In the role of Membership Chair, Lou employed her passionate, dedicated, persistent, wordsmith skills to coerce, cajole, shame, and entice people to sign up as Crime Writers of Canada members. As a result, CWC currently has the highest number of members in its history. Lou's gift for publicizing and marketing has been beneficial for CWC and has contributed to raising our ranks through her contributions to DorothyL and other listservs. Lou has been the model for Regional Vice Presidents, with her award-winning annual reports (OK, the award was just between us, but still…) and her tireless involvement. She has been instrumental in ensuring the success of western Arthur Ellis shortlist events, Word on the Street, and mini-conferences in Victoria for National Crime Writing Month. This year, she has accomplished all of this in addition to being co-chair for the Bloody Words Conference, not to mention handling her own career and life.

Lou's insightful, wise and thoughtful advice, guidance and over the years in committee, Board or regional work have been invaluable. Please join me in congratulating her as one of my two choices for the Derrick Murdoch Award 2011. 

Catherine Astolfo, President 2010-2011

 

Nancy Anne Tully Grant, or NAT Grant as she uses as her nom de plume, has the kind of background that was a breeding ground for crime writing. A science major with a career in Nursing and Health Care, the manager of the Montreal Burn Unit, a boostier-wearing dynamo with a healthy dose of paranoid tendencies, she is a natural leader and author. Her books are gritty, with riveting action and hard-hitting plots. Her RACE series is based in Montreal, rooted in her native Quebec, though life on the road with her soulmate, husband Jon, has added a dimension of research that cannot be rivaled.

The Westmount Examiner said about her first book, Race Without Rules: "…a spy thriller of intrigue [with] a plan for terrorism that is all too plausible… makes for a page turning read that leaves the reader shaken long after the book is put down." And Global TV said, "Intrigue. Espionage. Anti-Semitism. Nazis. Brazil. Grant stepped inside evil characters…went for the gusto."

As she herself says, "As a nurse, I worked at the Montreal General Hospital in Surgical Intensive Care and five years later became the MGH's youngest Head Nurse taking on the Burn and Isolation Unit. I came to admire the ability of the human body to survive against tremendous odds. Seeing masses of burnt human flesh and rotting wounds does something to one's psyche; at least, it did to mine."

CWC is not shy in taking full advantage when someone's experience turns them to crime.

She's been coerced on as a Board member for so many years that she's forgotten how long, but it was circa 2005 when Cheryl Freedman roped her in. As we know, Cheryl has always been good at spotting an easy target – I mean, a leader. Nancy told me she's been with 4 CWC Presidents — Rick Blechta, Michael Blair, Kay Stewart and me, by which I think she means on the Board with them. Nancy was Regional Vice President for Quebec and Atlantic Provinces and Director-at-Large Secretary.

I don't have time to enumerate all the committees that Nancy has left her legacy upon, but the Mentorship Program, Special Events, Grants and the Website are among the most indelible. Particularly with the website, over this past year, Nancy spent long unpaid hours ensuring that, within our budget, CWC could have as much of its wish list as possible. In 2009, Nancy took the reins for this enormous project. She delegated, designed, inputted, steered, and made a huge contribution toward ensuring that the theoretical ideas of a website that was professional, easy to navigate, promotional, informational, fun, and functional, became tangible. It's my belief that the website is largely responsible for our most numerous membership ever and for all of the recent sponsorship interest, particularly the National Post and CBC Radio.

Thus Nancy Grant was, from the moment that website launched in the summer of 2010, my choice for the Derrick Murdoch Award.

Catherine Astolfo, President 2010-2011
2010 Derrick Murdoch Peter Robinson

Peter Robinson is a familiar name on Arthur Ellis lists. Since winning the Best First Novel prize in 1988 for Gallows View, Peter has won three Best Novel awards and been nominated for another six. He has also been nominated for three Arthur Ellis short story awards, winning twice.
So Crime Writers of Canada, through its awards, has honoured Peter's artistry as a storyteller and is now honouring his broader contribution to Canadian crime writing. Canadian, you say?
It's true; Peter was born in Yorkshire and received a B.A. Honours in English from Leeds University.  And yes, his novels, with one exception, are set in Yorkshire. And the press release for the DI Banks TV series now in production in England coyly refers to Peter as an "international" crime writer.
But we know he's Canadian, don't we? How else could he have won all those Canadian awards, not only the Arthur Ellis Awards but also an Authors Award from the Foundation for the Advancement of Canadian Letters in 1995 and the Grant Allen Award at the Wolfe Island Scene of the Crime Festival last summer? Not to mention the fact that he also served as President of CWC.
Sometimes writers have to get away from their familiar landscape to write about it well. So Peter came to Canada to study, taking an M.A. in English and Creative Writing from Windsor under the tutelage of Joyce Carol Oates, and a Ph.D. from York (though a Ph.D. can as often destroy creativity and writing skills as develop them).  And then Peter gave us DI Alan Banks, the outsider, with an outsider's struggles and an outsider's perspective.
Long after Inspector Banks became a familiar name in Canada and the US, the novels began winning crime writing awards in France (2001), Sweden (2002), the UK (2002), and Denmark (2006). The novels have now been translated into 19 languages. With the advent of the television series, Inspector Banks—if not Peter Robinson—will become even more widely known. And so May 27, 2010, was a fitting time to present Peter with the Derrick Murdoch Award for putting Canadian crime writing on the world map. 
By Kay Stewart  
2012 Winner-Astolfo-Graves
DERRICK MURDOCH AWARD - 2012
Derrick Murdoch Award to Don Graves

From planning Crime Writer events at Casa Loma in earlier days, to the countless reviews of member books that Don has written for The Hamilton Spectator – Don has been instrumental in promoting crime writing in Canada.

And most outstanding: Don has been a frequent Jury member for the Arthur Ellis awards. Without people like Don who selflessly commit their time and knowledge to selecting our short listed authors and winners, we wouldn't have national crime writing awards in Canada.

Don has served the Crime Writing community well these past several years, and I am delighted to tell you that he is coming on the Board of Directors of Crime Writers of Canada for the coming year.

Thank you, Don!

Derrick Murdoch Award to Catherine Astolfo

It is with great personal pleasure for me tonight that I am presenting this Derrick Murdoch award to Cathy Astolfo.

Many of you know Cathy as our President from last year. What you may not know is that Cathy guided our association through an extremely tumultuous time, when she herself was facing serious health issues. Most people would have quit: Cathy did not.

In fact, under Cathy's leadership, CWC grew in leaps and bounds. Our new website was launched. Our membership climbed to over 300. And – this is truly outstanding – Cathy negotiated our media sponsorship arrangement with National Post.

Cathy remained on the board this year as Past President, and continued to lead the National Post initiative. In addition to that, she has negotiated a deal for us with CARP.

We are extremely fortunate that she has agreed to stay on the board for another year, in the role of Toronto NVP.

Thank you, Cathy!