Just listen to some of the delicious words that Lou Allin has created. "The tiered vistas defined themselves, confessing antediluvian secrets under his patient tutelage." (From Man Corn Murders) and "A roseate kaleidoscope of light streamed through the stained glass windows of the small church, flashing jewels from a Jacob's ladder scene across Maddie's hands." (From A Little Learning is a Murderous Thing.)
As you can see, she's an accomplished writer, but she's also a poet, a dog lover, and she has even lived in Sudbury Ontario and survived to tell the stories. The Belle Palmer series, published by RendezVous Press was set there.
A Little Learning Is a Murderous Thing is an academic mystery at Copper University in the Michigan Upper Peninsula. Man Corn Murders takes place in the Escalante-Grand Staircase National Monument, the last mapped area in the U.S.
With a Ph.D. dissertation on Christopher Marlowe, the murdered English Renaissance spy, Lou came naturally to a love of crime stories. When she retired from teaching police students Report Writing and Presentations to Criminal Justice at Cambrian College in Northern Ontario, she left behind a plow truck, two snowblowers, two scoops, and five shovels, and headed for Sooke, BC. Her next series was based in the Vancouver Island environs, with an RCMP corporal, Holly Martin, as her heroine.
In 2008, Lou took over from a Crime Writers of Canada Director who had to resign and remained on the Board through thick and thin. In the role of Membership Chair, Lou employed her passionate, dedicated, persistent, wordsmith skills to coerce, cajole, shame, and entice people to sign up as Crime Writers of Canada members. As a result, CWC currently has the highest number of members in its history. Lou's gift for publicizing and marketing has been beneficial for CWC and has contributed to raising our ranks through her contributions to DorothyL and other listservs. Lou has been the model for Regional Vice Presidents, with her award-winning annual reports (OK, the award was just between us, but still…) and her tireless involvement. She has been instrumental in ensuring the success of western Arthur Ellis shortlist events, Word on the Street, and mini-conferences in Victoria for National Crime Writing Month. This year, she has accomplished all of this in addition to being co-chair for the Bloody Words Conference, not to mention handling her own career and life.
Lou's insightful, wise and thoughtful advice, guidance and over the years in committee, Board or regional work have been invaluable. Please join me in congratulating her as one of my two choices for the Derrick Murdoch Award 2011. 
Catherine Astolfo, President 2010-2011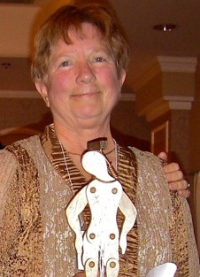 Nancy Anne Tully Grant, or NAT Grant as she uses as her nom de plume, has the kind of background that was a breeding ground for crime writing. A science major with a career in Nursing and Health Care, the manager of the Montreal Burn Unit, a boostier-wearing dynamo with a healthy dose of paranoid tendencies, she is a natural leader and author. Her books are gritty, with riveting action and hard-hitting plots. Her RACE series is based in Montreal, rooted in her native Quebec, though life on the road with her soulmate, husband Jon, has added a dimension of research that cannot be rivaled.
The Westmount Examiner said about her first book, Race Without Rules: "…a spy thriller of intrigue [with] a plan for terrorism that is all too plausible… makes for a page turning read that leaves the reader shaken long after the book is put down." And Global TV said, "Intrigue. Espionage. Anti-Semitism. Nazis. Brazil. Grant stepped inside evil characters…went for the gusto."
As she herself says, "As a nurse, I worked at the Montreal General Hospital in Surgical Intensive Care and five years later became the MGH's youngest Head Nurse taking on the Burn and Isolation Unit. I came to admire the ability of the human body to survive against tremendous odds. Seeing masses of burnt human flesh and rotting wounds does something to one's psyche; at least, it did to mine."
CWC is not shy in taking full advantage when someone's experience turns them to crime.
She's been coerced on as a Board member for so many years that she's forgotten how long, but it was circa 2005 when Cheryl Freedman roped her in. As we know, Cheryl has always been good at spotting an easy target – I mean, a leader. Nancy told me she's been with 4 CWC Presidents — Rick Blechta, Michael Blair, Kay Stewart and me, by which I think she means on the Board with them. Nancy was Regional Vice President for Quebec and Atlantic Provinces and Director-at-Large Secretary.
I don't have time to enumerate all the committees that Nancy has left her legacy upon, but the Mentorship Program, Special Events, Grants and the Website are among the most indelible. Particularly with the website, over this past year, Nancy spent long unpaid hours ensuring that, within our budget, CWC could have as much of its wish list as possible. In 2009, Nancy took the reins for this enormous project. She delegated, designed, inputted, steered, and made a huge contribution toward ensuring that the theoretical ideas of a website that was professional, easy to navigate, promotional, informational, fun, and functional, became tangible. It's my belief that the website is largely responsible for our most numerous membership ever and for all of the recent sponsorship interest, particularly the National Post and CBC Radio.
Thus Nancy Grant was, from the moment that website launched in the summer of 2010, my choice for the Derrick Murdoch Award.
Catherine Astolfo, President 2010-2011