Phyllis Smallman, 1945-2018
Author Phyllis Smallman, long-time member and first recipient of the Unhanged Arthur, passed away on 6 October 2018.
Phyllis Smallman's love of books led to various library jobs in southern Ontario towns, Brantford, Grimsby, and Ancaster, where she hid out in the stacks reading mysteries. Her library card is still one of her most prized possessions.
She later became a production potter, churning out thousands of stoneware mugs, bowls, and butter dishes while listening to the CBC and dreaming of being a writer. (Bio)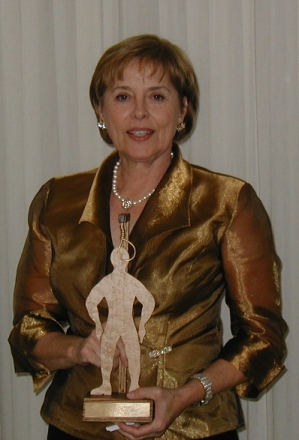 Phyllis is best known for her Sheri Travis mystery series set in Florida. As well as winnning the Unhanged Arthur, her debut novel, Margarita Nights was sortlisted for the Arthur Ellis Awards Best First Novel. Her books have also won numerous awards in Florida.
The night Phyllis died, Last Call won a "Reader's Favourite" Book Award. Our Phyllis knew how to make a grand exit. (Obituary, Hamilton Spectator)
Awards:
Winner, inaugural Arthur Ellis Award for Best Unpublished First Crime Novel (aka the Unhanged Arthur), June 2007, for Margarita Nights

Finalist, Debut Dagger (Crime Writers Association, UK), 2004, for Margarita Nights

Short listed for an Ellis Award for best first novel in 2008 from the Crime Writers of Canada.